Email is used by everyone today for a wide range of things, from communicating with friends and coworkers to acting as an online passport. Today, you need an email address to sign up for almost every app or service, as well as most loyalty cards, contests, and other things.
Having a single email address for everything is convenient, but getting dozens of emails you don't want every day is not. Also, stores' databases are often broken into these days, which makes it more likely that your email address will end up on spam lists. Then there's the fact that it's almost impossible to do anything completely in secret.
There are many ways to get your Gmail and Outlook inboxes under control, but sometimes you need a more drastic step: a disposable email address.
Simple Yahoo "disposable" email addresses, simple Gmail changes to make filtering easier on your main email address, and even a completely anonymous email address are all ways to solve this problem. Disposable email addresses are a great way to bring back some of the privacy benefits of email.
How to Use Tempail For Beginner's Guide to Disposable Email Addresses
The most obvious way to make a disposable email address would be to sign up for a new email account with Gmail, Yahoo, or any other free email service, but that's a lot of work for just one new email address. It would work if you only wanted one email to give to companies and one for personal use. If you wanted more than that, though, disposable email addresses would be a better choice.
1. Go to https://tempail.in/. Right away, you'll be given a random email address without having to do anything else. You can just copy it to the clipboard and paste it when you need to register. Then click the button that says "Refresh" to see if you got a reply. Note that the letters will be kept for 48 hours.
2.If you don't need that email for a long time, you can use the Remove button to delete it yourself. By the way, if you click this button, you'll get a new email sent to you at random.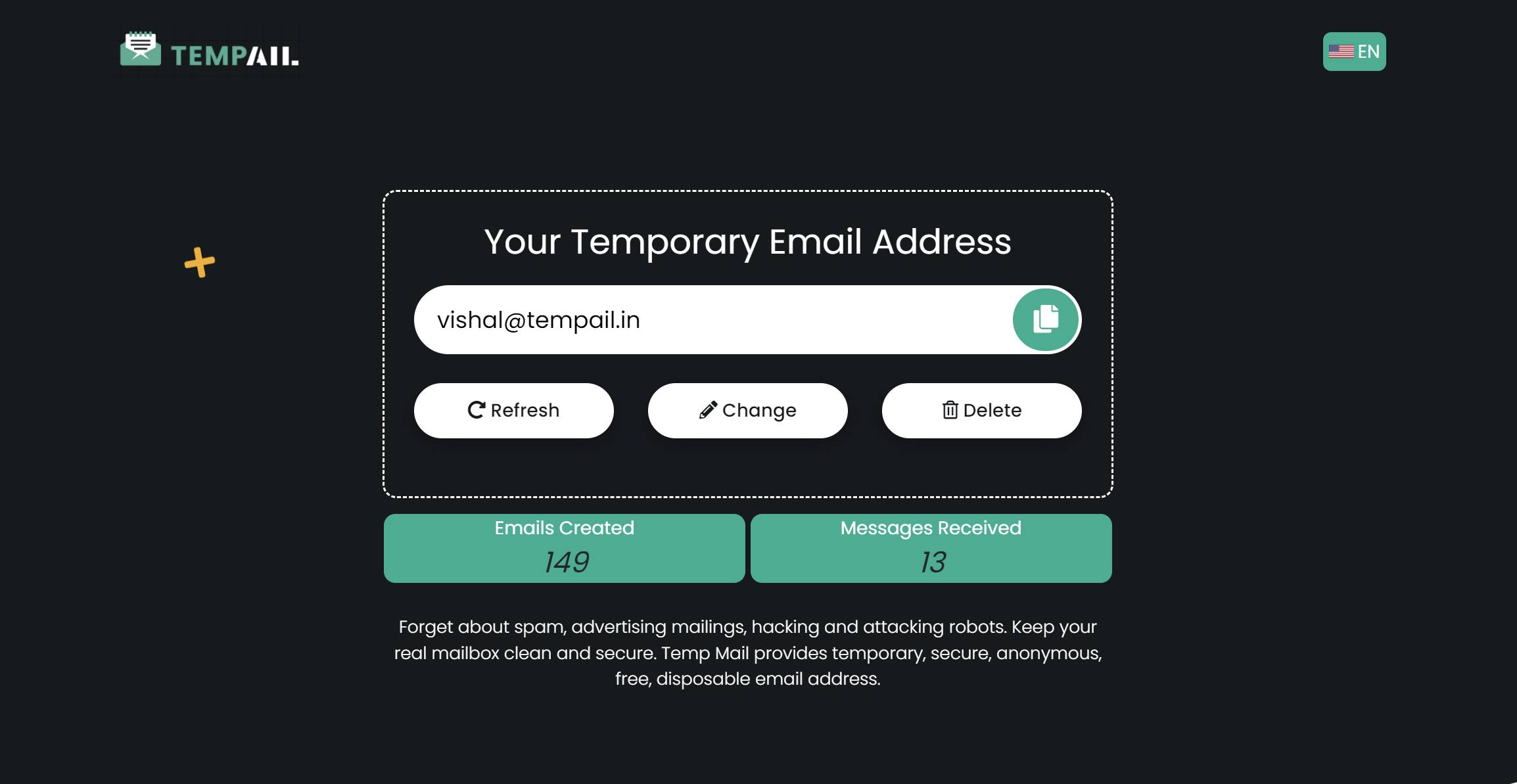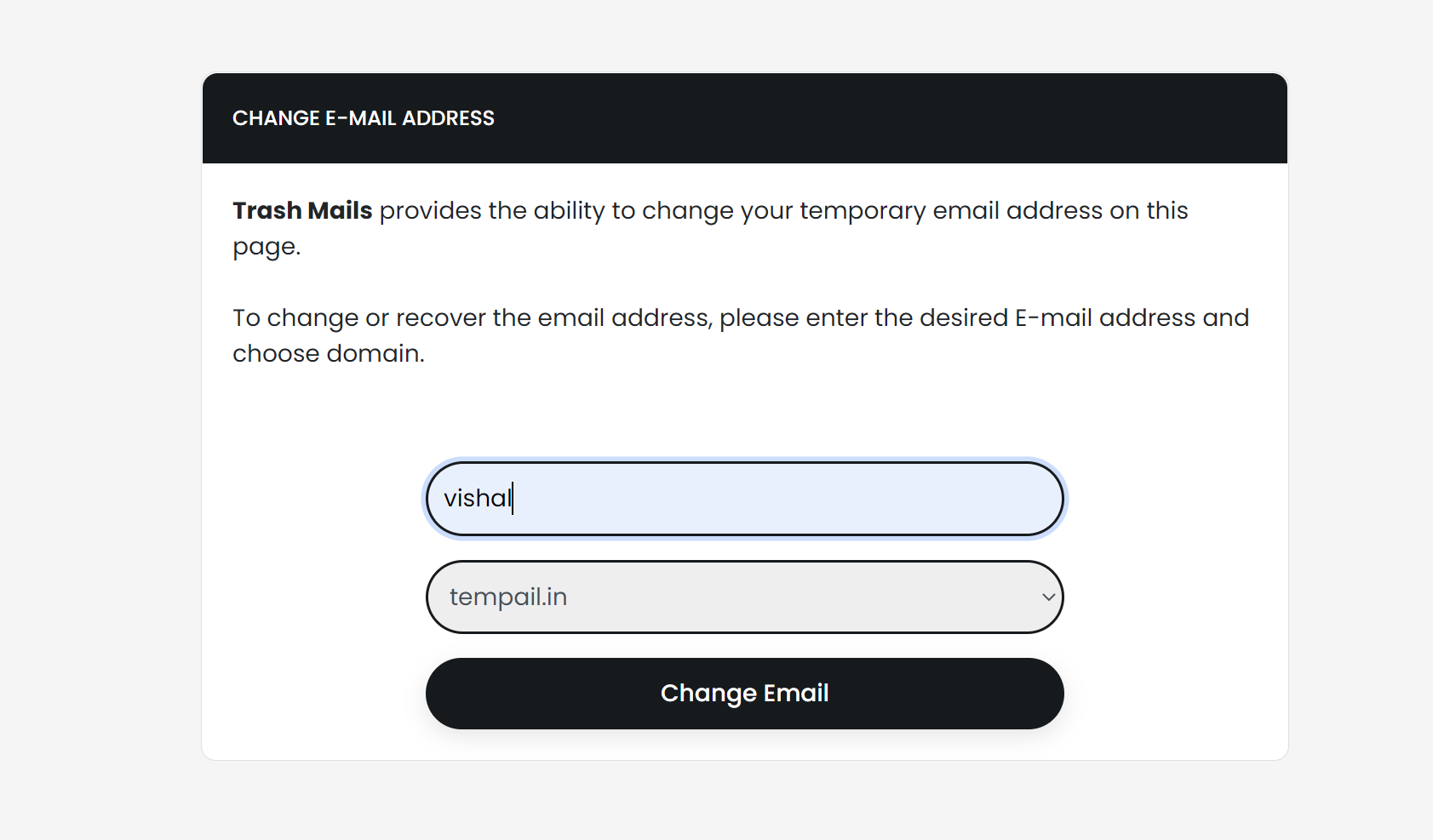 3.Click the Change button if you want to change the name of your temporary email address or make it look more like your real email address. There, you can type in any name and pick a domain from a list.
4. Enjoy the freedom Temapil.in Mail gives you on the Internet and say goodbye to spam.
How it works?
If you go to https://tempail.in/, you can get a temporary mail box without having to register or give any other info. At the top of the page, you'll see buttons for your temporary mail box and temporary email address.
Messages that come in to this temporary mailbox will only be kept for 60 minutes. After that, they will be deleted. You can reload the page in your browser or close it and reopen it, and your temporary mailbox will still be there. The page only has 4 control buttons, but that's enough to use the temporary mailbox.
Press the "Copy" button to copy an address from your mailbox to the clipboard. You can then paste it into your program code or the settings for your email module.
Click the "Refresh" button to get new emails if they don't show up automatically on the list of new emails.
The "Change" button lets the user put in any email address they want for the temporary mailbox.
Press the "Delete" button to get rid of the temporary mailbox and make a new one.
You can't send mail from a temporary mailbox, so keep that in mind. This feature is turned off to keep hackers, fraudsters, and spammers from using the temporary mailbox to send users unwanted information.